–>
In addition to the "die hard" in the caste film directed by Eli Roth joined Vincent D'onofrio, Elizabeth Shue and Dean Norris.
Plot Thriller based on the eponymous book by Brian Garfield picture 1974 based on it. The main character – a peaceful citizen Gender kersee (Bruce Willis), working as a surgeon, takes up arms after his wife and daughter are attacked by bandits. Floor not only to avenge her husband (who eventually died), clearing the streets of Chicago swept their crime, but also become famous all over the city.
Also in the cast are Jack Kesey, Mike Epps, Kimberly Elise, Christopher Tyson, and others. The final version of the script was written by Eli Roth and Joe Carnahan ("drug Baron", "Battle").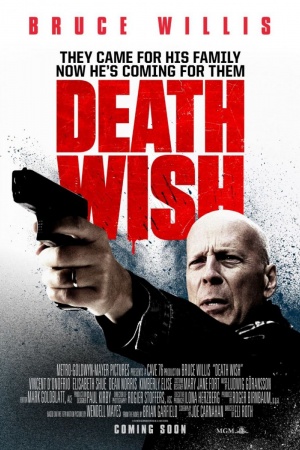 Movie news for 10.10.2017 – Bruce Willis on the poster of the film "death wish"
Поделиться в соц. сетях