–>
At the grave actor of Russian origin Anton Elchina appeared a tombstone. About it reports TMZ.
At the opening of the bronze monument came to the Hollywood star with whom Yelchin starred in the movie. Among them is Jennifer Lawrence, demi Moore, Zoe Saldana and Simon Pegg.
According to the information portal, relatives Alcina wanted to put the deceased artist of the monument immediately after a funeral ceremony held in 2016, however, it had to be buried — in the cemetery of mount Sinai, where originally buried the body of the actor, the installation of the sculptures is prohibited.
27-year-old Alcina was found dead near his home in California in June 2016. Cause of death called asphyxia from blunt force trauma. Parked at home, the actor went to open the iron gate, leaving your vehicle with the engine running. The car rolled from the slope and crushed him.
Most actor known for playing Pavel Chekhov in the revived series of "star trek" and the image of a young Kyle Reese in the film "Terminator: Yes come Savior".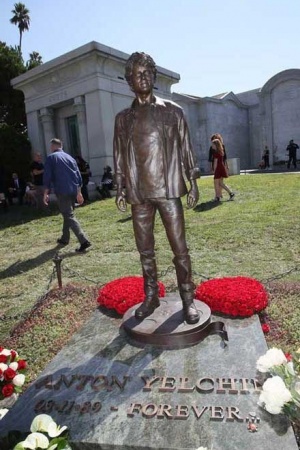 Movie news for 11.10.2017 – A monument to actor Anton Elchina set in Los Angeles
Поделиться в соц. сетях